Multi-Level Deck Solutions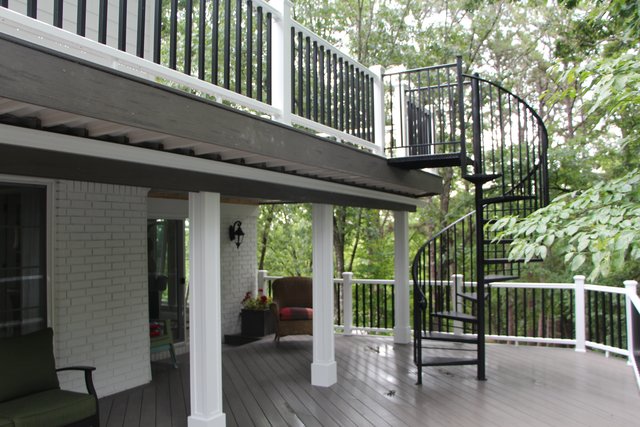 Multi-Tier & Two Story Decks Lexington KY
Are you looking for a decking solution in Lexington on the surrounding areas that will add major value and functionality to your outdoor space? Would you like a two-story deck or three-story deck? Are you interested in a beautiful new cedar deck, or new composite decking structure? Lexington Deck & Siding are the industry leaders for multi-tiered deck solutions in Lexington, Winchester, Richmond, Nicholasville, Georgetown, Paris and the surrounding Kentucky areas.
We employ deck builders and outdoor construction designers with decades of experience building decks all over Kentucky, and we can build custom decks that will enhance your property, add major value, and will last for years to come.
Multi-Level Deck Builder Richmond, Winchester, Nicholasville, Georgetown
Whether you're in the market for a two-storied deck or even more, we build decks of all shapes, sizes, and use only the highest quality materials for all our projects. If you'd like an attached multi-storied deck, or detached decking to provide structure for hilly terrain on your property, we are the best deck builders in Kentucky and guarantee customer satisfaction on all our decking projects.
Our contractors are experienced deck builders with years of experience, and our outdoor construction design team will help you craft the deck of your dreams you can use with your family to make happy memories that will last the rest of your life.
We offer a variety of options when it comes to colors, deck stain, styles, deck rail options, deck lighting, luxury deck panels, deck stairs, and more! If you can dream it, we can build it!
Two-Tiered & Three-Tiered Decking Options
Lexington Deck & Siding is home to an excellent design team. We are pleased to offer free consultations to our customers in Lexington, Richmond, Winchester, Nicholasville, Georgetown, Paris, and the surrounding areas in Kentucky. If you've been thinking about adding a deck to your property, we would love to speak with you and go over all the options available for your new deck projects.
Please give our friendly deck builder in Lexington a call at 859-413-4411
We offer up-front pricing, free quotes, and guarantee your complete satisfaction with our decking services. Thank you for your interest - we look forward to building your new multi-level deck for you!